…and the ÖGMBT Best Talk Award goes to: Eva König!
(Vienna, 11.10.2022) Eva König, PhD, Principal Investigator at St. Anna CCRI, remains in the spotlight. Not only did she win the Heribert-Konzett-Prize of the Austrian Pharmacological Society (APHAR) last week, she also received the "Best Talk Award" from the Austrian Society for Molecular Biosciences and Biotechnology (ÖGMBT) for her most convincing presentation on Non-canonical STAT1 signaling in natural killer cells, on how to empower potentiate natural killer (NK) cells in their fight against cancer.
In recent years, new anti-cancer therapies such as NK cell immunotherapy, have reached the clinic and shown promising results. However, we still face challenges caused by therapy resistance and secondary metastases. In the search for even more potent and long-lasting anti-cancer therapeutics, Eva König and her team explore new mechanisms that increase the effectiveness of NK cells in recognizing and killing tumor cells. Here, the transcription factor STAT1 plays a key role, as it regulates basic NK cell functions such as cell maturation and cytotoxicity.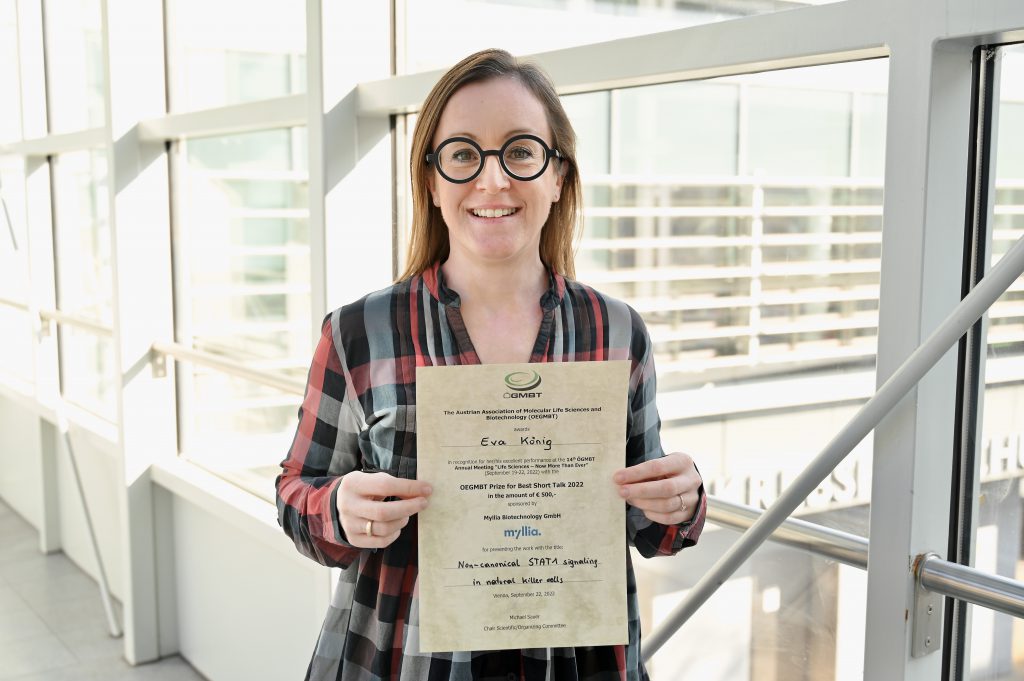 In her "Best Talk", Eva König presented her new research project, investigating a transcription-independent function and previously unrecognized involvement of STAT1 at the immunological synapse, i.e. the contact site between NK cell and target cell. "I am very pleased that I was able to present this project at the ÖGMBT, and that there is so much interest in our unconventional new research approach. We aim to identify new interaction partners of STAT1 that could serve as targets to increase the anti-tumor potential of NK cells," the awardee notes.