Background
Viral and aspergillus infections are a major cause of morbidity and mortality for immunocompromised patients e.g. after hematopoietic stem cell transplantation and solid-organ transplantation. For the personalized treatment of patients suffering from viral infections, we obtained the manufacturing license for generating clinical-grade ADV-, CMV-, EBV- and BKV-specific T cell products (an advanced therapy medicinal product (ATMP)) according to the Austrian medicinal product act. Recently, also patients with progressive multifocal leukoencephalopathy (PML) were treated with BKV-specific T cells on a named-patient use basis.
Another focus is on the identification of novel targets for T cell therapy for pediatric high-grade osteosarcoma. Osteosarcoma is an aggressive bone cancer affecting children and adolescents. Treatment options have remained largely unchanged over the last 30 years and survival rates have stalled. Clearly, there is an unmet need for novel, personalized therapeutic approaches.
Our Research
Rare virus-specific T cells
One of our aims is to develop new tests and methods for routine laboratory or clinical applications in the context of antigen-specific T-cells. Based on that, our research interests are focused on the:
extension of our current GMP-compliant antigen-specific T-cell product portfolio with Aspergillus-specific T-cells.
detection of SARS-CoV 2-specific T-cells through DNA-barcoded MHC class I multimers, flow cytometry, and next-generation sequencing.
identification of SARS-CoV-2-specific antigens presented by MHC class I molecules using mass spectrometry (immunopeptidomics)
Immunopeptidome of pediatric high-grade osteosarcoma
Osteosarcoma features hallmarks of immune recognition in the form of tumor infiltrating lymphocytes with an active T cell component and may be a suitable target for personalized, T cell-based immunotherapy. For such therapies to become reality, knowledge of actionable and safe immunological tumor antigens is crucial. Besides aberrantly expressed tumor-associated antigens, neoantigens derived from somatic protein-altering mutations can be presented as short peptides in the context of MHC class I molecules to the patient's T cells. In silico methods most commonly used for tumor antigen prediction often fall short in fully recapitulating the genesis of HLA ligands.
Together with our collaboration partner Dr. Andreas Schlosser (Rudolf-Virchow-Zentrum, University of Würzburg) we are applying state-of-the-art mass spectrometry to directly identify truly HLA-presented peptides on the surface of clinical osteosarcoma samples (the so-called HLA-ligandome) (see Fig. 1). A special focus lies on the cryptic HLA ligandome, derived from non-canonical open reading frames ("proteomic dark matter"). Our methodology allows the direct identification of tumor-specific, therapeutically relevant, HLA-ligands not present on healthy tissue and might reveal an osteosarcoma-specific ligandome fingerprint, applicable across patients. Such ligands can in the future be used to derive osteosarcoma-specific T cell receptors for modification of autologous, patient-derived T cells.

FACS Core Unit
For more detailed information about this core unit and its services please visit the section FACS Core Unit.
Clinical Routine
The second area covers clinical routine and concerns the manipulation of cells or blood products via:
cryopreservation and storage of, and storage logistics for autologous- and allogeneic stem cells, leukocytes (as starting product for CAR-T-cells), allogeneic donor lymphocytes (for graft-versus-tumor effect),
depletion of alpha/beta T-cells (prior to HLA-mismatch hematopoietic stem cell transplantation) and
generation of GMP-grade ADV-, CMV-, EBV- and BKV-specific T-cells via a short-term expansion procedure (12-days) using virus-specific peptide pools and IL-15 for stimulation.
All these cell products are administered to patients as part of their treatment regimens. These procedures take place under sterile conditions in our GMP laboratory. All our cell products are cryopreserved via an in-house validated freezing medium with a reduced DMSO concentration. For all these procedures we do have an appropriate certification by the national competent authorities (AGES) according to the tissue safety act (Gewebesicherheitsgesetz) and medicinal product act (Arzneimittelgesetz) (see Fig. 2).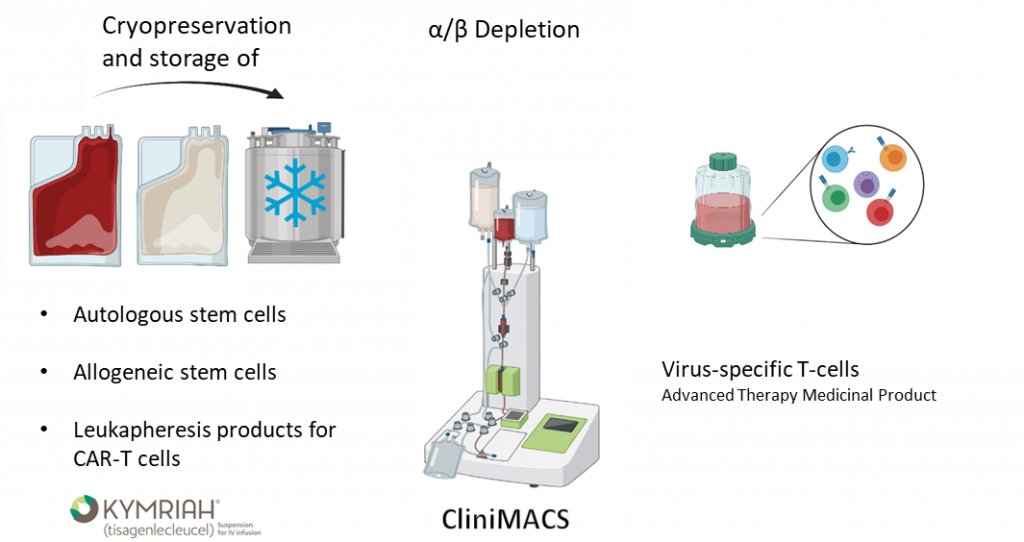 Projects and Funding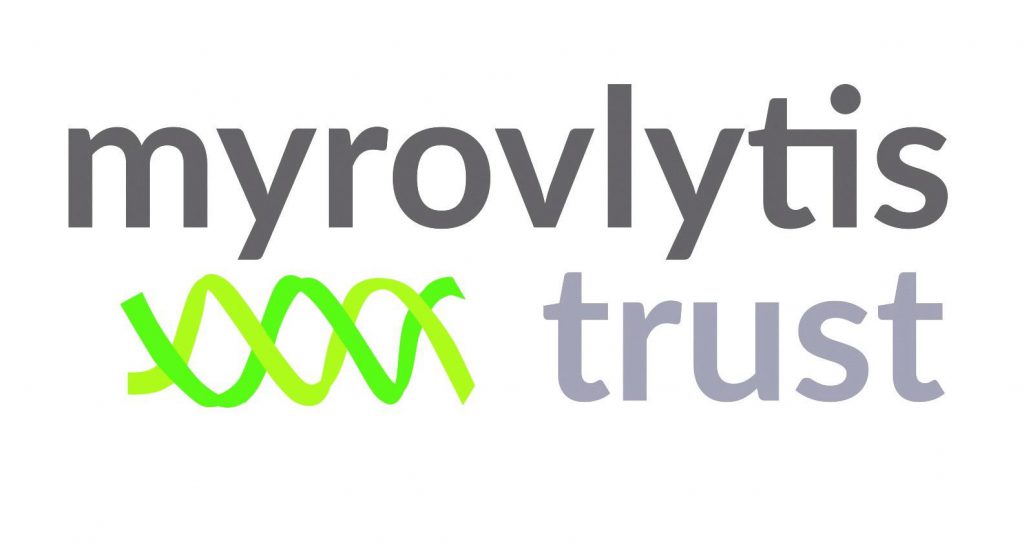 The immunopeptidome of paediatric high-grade osteosarcoma
CCRI responsible Principal Investigator: Wolfgang Paster
Grant from Myrovlytis Trust, ID – MT22_1
Duration: 1/08/2022 to 31/07/2023
Selected Articles
About René Geyeregger
Priv.-Doz. Dr. René Geyeregger (PhD), BSc, obtained a degree in biology focused on Genetics from the University of Vienna. He then completed a Ph.D. at the University of Vienna and Medical University Vienna, focusing on immunology, polyunsaturated fatty acids, and their effect on immune cells. In the following years, René Geyeregger worked as a post-doc at the Department of Internal Medicine III and the Institute for Cancer Research at the Medical University Vienna and joined the CCRI as a senior scientist in 2008. In 2010, he completed postgraduate studies in Pharmaceutical Quality Management at the University of Vienna. Since 2017, he has been principal investigator, head of the Clinical Cell Biology and FACS Core Unit, and the concomitant good manufacturing practice (GMP) laboratory. In 2021, he completed his bachelor's degree in biomedical science at the FH Campus Wien.